Many people have a deck that they enjoy throughout the seasons of the year. The trouble is, if you have a wooden deck, it can also begin to show signs of weather damage and fatigue due to constantly being in the elements. While deck staining can be one option to help maintain your deck, sometimes deck painting can be the better choice. So, when do you know that deck painting is a good option for your home?
Hide Imperfections – One of the advantages of deck painting is that it can do a better job of hiding imperfections on your wooden boards than a stain might. If you don't want to look at the knots or naturally occurring holes in your deck, paint might be a great option!
Project Against Damage – Deck painting is also a great way to protect against damage. A coating of paint can add a layer of protection against rain, snow, and other wet precipitation, as well as the hot summer sun. In fact, paint might keep your decking cooler during the warmer months of the year compared to a stain.
Easier Cleaning – Another benefit of deck painting is that it can make your deck easier to clean. While power washing is the standard method for most outdoor decks, the wood may absorb some debris and buildup. A layer of paint on your deck boards makes it easier to power wash your deck so that it is clean and beautiful year-round.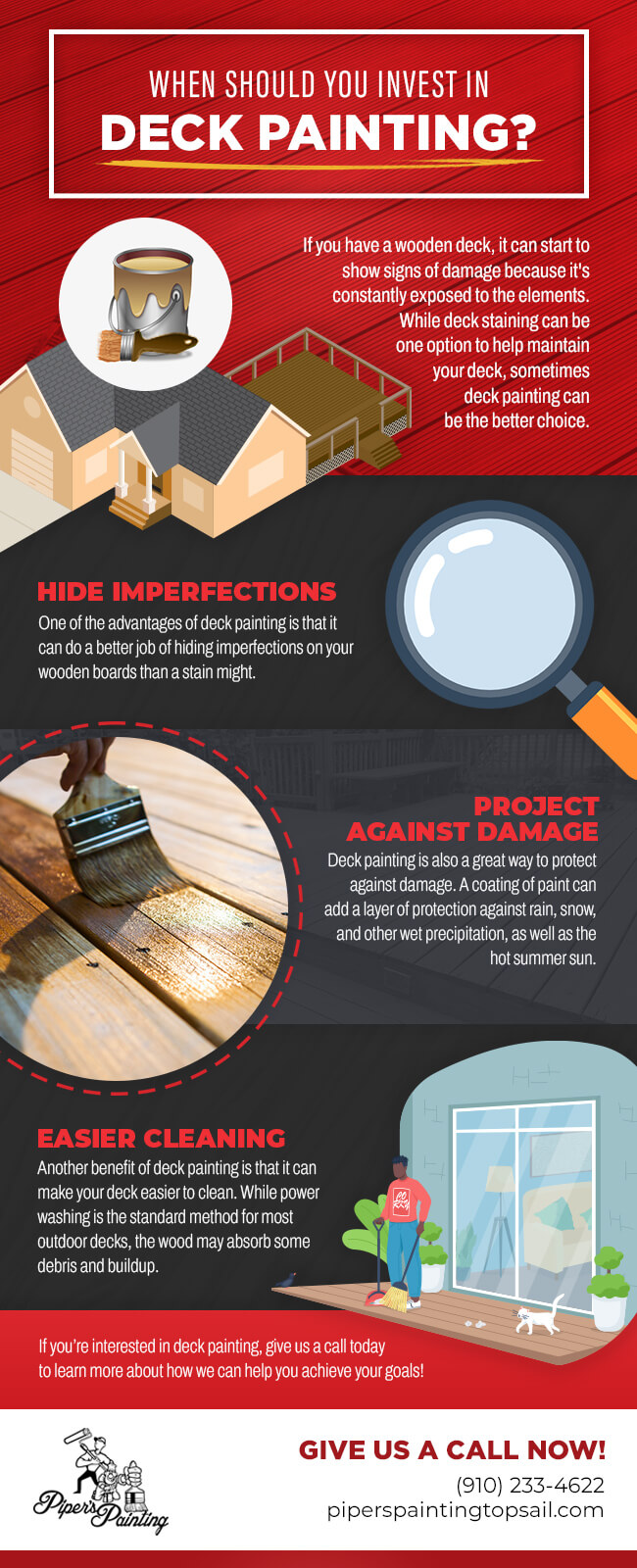 At Piper's Painting, we believe that any painting you do inside or outside your home should be done with care. We are equipped to offer deck painting services that will ensure you get a beautiful color on your outdoor living area that also hides imperfections, protects against damage, and offers easier cleaning throughout the year. If you're interested in deck painting, give us a call today to learn more about how we can help you achieve your goals!